The Australian Medieval Combat Federation (AMCF) is an organisation that uses historically accurate medieval weapons to compete in national and international tournaments. As part of our sponsorship, we've recently collaborated with Dweebi to develop a new website for the AMCF. Their new online home is an opportunity for them to reach people with similar interests, invite others to join their clubs and to provide an insight into the buhurt sport.  
Who are the AMCF?
The AMCF is an association formed around the passion for medieval combat. Although, it's not just for those interesting in the fighting itself, the AMCF has a role for everyone interested in sport and history of medieval combat.  
With over 170 fighters across Australia that participate in group and individual combat events at national and international levels, the AMCF is part of a larger community that stretches the globe.
Our sponsorship of the AMCF
Sydney ICT has been sponsoring the AMCF for just over 5 years now. Our CEO, Kale Bullen, has been a proud supporter of the sport for years and wanted to do what he could to help.  
I really like the sport and have found it fascinating to spectate. I heard from the president of the club that they face a lot of backlash and negativity in the media. I wanted to change that and lift their spirits and support them in any way I could.

Kale Bullen, CEO at Sydney ICT
In 2019, we attended Winterfest at the Hawkesbury Showground where they presented us with our very own shield as a token of their gratitude for our ongoing support.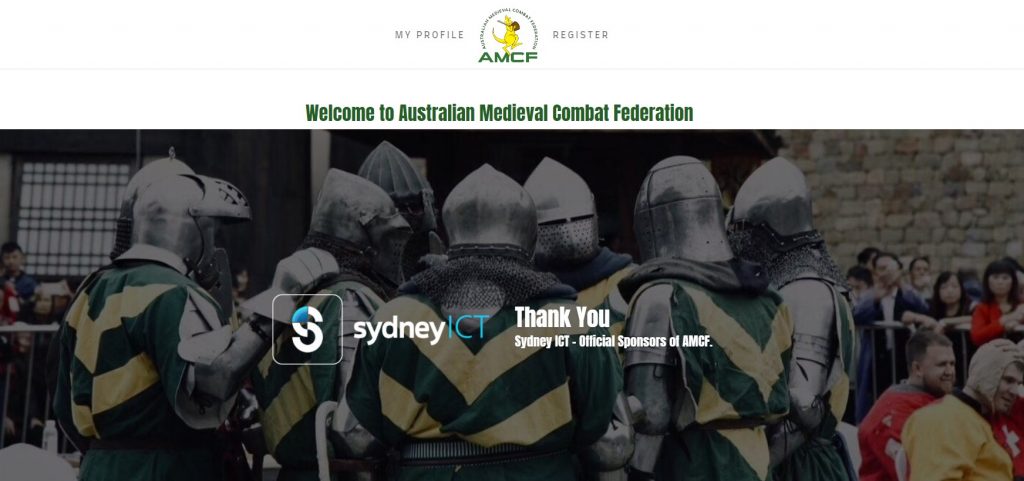 The shiny new AMCF website
With the new AMCF website complete, Dave Melloy, the AMCF coordinator, is thrilled with the outcome.
The website exceeded our expectation! We even had some comments from members saying how professional it makes the association.

Dave Melloy, AMCF Coordinator
One of the main goals of the website has been to help new and existing member have an easy way to renew their membership. It's also become a great resource for an overview into the buhurt sport. In the future, Dave also hopes that the website will become a way to update their community on future events and industry news.  
Sponsoring the AMCF allows Sydney ICT to give back to our community and support an association that brings so many people together. Now, with their new website, they'll be able to better connect their community and continue the practice and study of a sport that's centuries old.