Have you ever wondered what an SSL certificate is? If you've paid much attention to your URL bar lately, you'd notice a small lock on the left-hand side of the bar. This lock indicates if a website is secured with an SSL certificate or not. If your URL bar doesn't have a small lock on it, another way to tell if a website has an SSL certificate or not is whether the URL starts with an 'http://' or an 'https://'. The additional 's' at the end, means the website has been secured with an SSL certificate.
But what are they and why are they so important?
What's an SSL Certificate and what do they do?
SSL stands for Secure Sockets Layer which doesn't mean a lot if you aren't particularly tech savvy. Basically, an SSL certificate makes the website connection secure and encrypted. This is particularly important if your website is asking visitors for personal information or payment details.
An SSL certificate will use small data files to cryptographically establish an encrypted link between the web server, where the website is hosted, and the browser a visitor is using. This certificate will ensure any data that passes between the two remains private.
Are SSL Certificates necessary?
In our internet dependant world, the answer is essentially yes. If your website has a contact us form, request a callback form or even a form to encourage visitors to join your mailing list, you will need an SSL certificate to protect the information site visitors submit.
If your website has a more serious form that asks for bank details or other particularly sensitive and private information, you must have an SSL certificate. You may even need a particular type of certificate to meet the requirements of your website.
What happens if you don't have an SSL Certificate?
If your website doesn't have an SSL certificate, the best-case scenario is that you'll lose the trust of site visitors. As site visitors become more tech savvy and aware of cybersecurity best practices, they'll have an eye out for whether a website is secure or not. Web browsers, such as Google, are also making efforts to highlight if a visitor has entered a website that isn't secure. Visitors may be met with a message telling them the site isn't secure, or the lock in their URL bar may turn red and open.
Worst-case scenarios for not having the right SSL certificate, however, can have far more severe consequences. Without the security that these certificates provide, a hacker may intercept the information input into your website. If you're requesting personal information, even an email address and name from site visitors, you don't want hackers to be able to intercept and use this information to their advantage.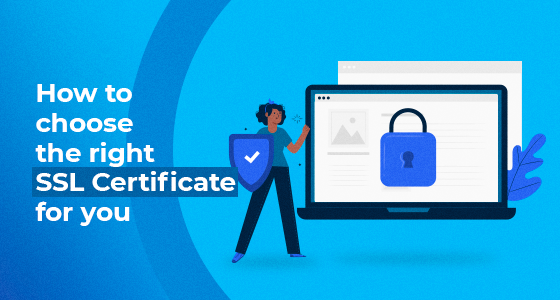 Types of SSL Certificates
There are two different categories of SSL certificates. The first category is sorted by the level of encryption and validation. The second category is sorted by the number of domains you need to protect.
Encryption and Validation Certificates
As the level of protection goes up for these certificates, so does the price and the documents required to prove you own your domain and business.
Extended Validated Certificate
This certificate is the highest class of SSL available, but it is also the most expensive. It gives your site more credibility and trustworthiness in comparison to organisation or domain validated certificates.
To purchase an extended validation certificate, you will need to prove you own the domain you are submitting it for. This the recommended certificate if your website processes payments or collects data.
Organisation Validated Certificate
These certificates are a good alternative if you don't have the financial resources for an Extended Validated Certificate. You'll still receive a green padlock on the browser, but this certificate will only offer a medium level of encryption.
Domain Validated Certificate
Domain Validated Certificates offer a quick and economical way to implement an SSL Certificate on your website. These certificates verify that you own the domain and shows a green padlock next to the URL in the address bar.
Wildcard SSL Certificates
This is the most common type of certificate that will cover a number of domains. Wildcard SSL certificates allow you to use the one certificate to secure both your primary domain as well as all subdomains. For example, a Domain Validated Certificate would only cover domain.com but a Wildcard Certificate would cover domain.com, blog.domain.com, mail.domain.com, and any other subdomains you have. This is a much cheaper alternative than buying multiple SSL certificates for all your subdomains.
How to get an SSL Certificate for your website?
After choosing the certificate that would be best for your website, simply visit our SSL Certificates page and follow the instructions there. For validation certificates, you will need some verification documents to complete the process. Then, wait between 1 – 3 days (depending on the type of certificate you have ordered) for us to issue your certificate.
SSL Certificates are arguably a necessity for websites in the modern era. Not only do they secure information between a visitor and your website but they have SEO benefits as well.
If you aren't sure which SSL certificate will be best for you or need assistance adding the certificate to your website, simply give us a call or drop us a message. After all, we're here to help!