One of the great things about working from home is that you have the freedom to create a setup that works best for you. Following the outbreak of Covid-19, it?s likely that businesses are going to start thinking differently about working from home. During the outbreak, you may have initially sat at the dining room table or set up a temporary desk in the garage. However, if you?re going to be working from home for more than a couple of weeks, this simply won?t do.
It?s important to consider the practicalities of a home setup. You?ll need the right technology to support remote working and your particular tasks. As well as this, having a workspace that is welcoming and suits your workstyle will boost your productivity and morale.
As a team, Sydney ICT is set up with the capability to be fully remote but our individual home setups couldn?t be more different. I talked to a couple of my colleagues about what works best for them and why.
The long hours setup
When Zach Brewer, our Chief Sales Officer, isn?t taking calls or participating in video conferencing meetings, he?s still at his desk drawing up proposals and finessing his strategy. For the long hours he puts in, he needs to have an ergonomic setup. Not only will this keep him healthy in the long run, but it also helps him stay motivated and productive in the short term.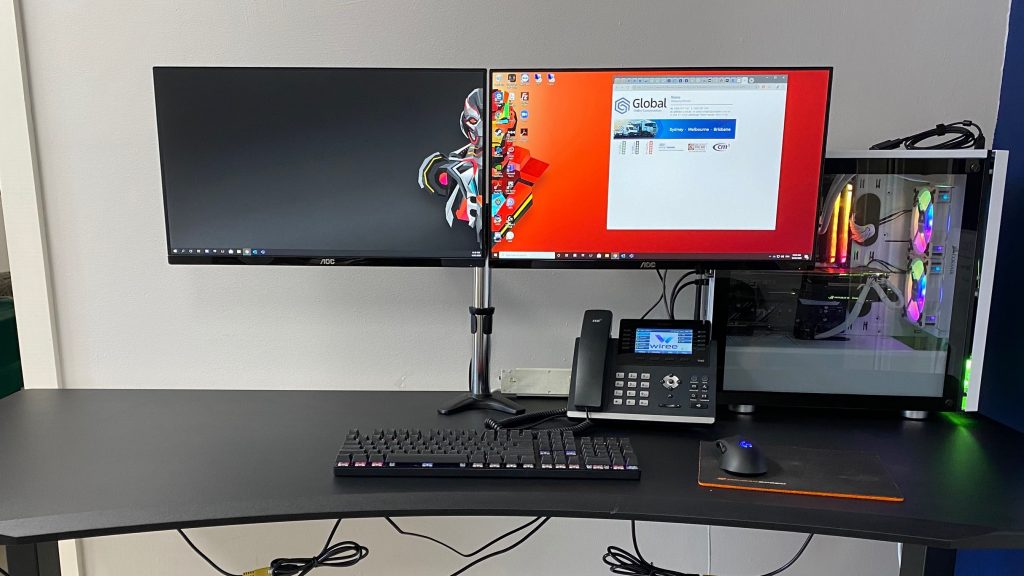 Can you tell me a bit about your setup? What does it include?
I?ve got 2 large monitors, both on a pole mount to help with ergonomics so I?ve got a good eye level and less strain on the neck. I?ve also got a VoIP phone so that I can make and take calls as if I?m still at work. I?m still using like a 10-year-old wired keyboard because it?s great and easy to type with and, funnily enough, my WPM (words per minute) has increased!
Why does this setup work for you?
Quite simply, I can operate my whole business from my desk. Having 2 screens gives me the ability to be time efficient and the VoIP handset allows me to call clients without calling from No Caller ID, which no one likes to answer.
When choosing this setup, what were the things you considered?
Ergonomics! I wanted to make sure that long periods of time working at the computer didn?t affect me. That?s why minimising strain on my neck and back was such an important factor.
Are there any upgrades you?d like to make?
For sure! A big 32? in the middle with 2x 22? on the side in portrait mode would be killer. As well as a sit/stand desk to give me choice of motion when working. Finally, an ergonomic chair would really top it off.
What would you recommend for people putting together their own home setup?
Your best friend is your physical health. The less strain your body has to make whilst sitting at your desk, the better you?ll feel when you?ve finished and ready to relax. No one likes a massive headache at the end of the day because they kinked their neck whilst working.
The hardcore setup
Kale Bullen, our Chief Executive Officer, certainly doesn?t let being at home slow him down. Whether he?s in the office or at home, he knows he has the network and infrastructure to support everything he does. From managing the team to trailing and testing new systems, Kale?s setup has been built for power and efficiency.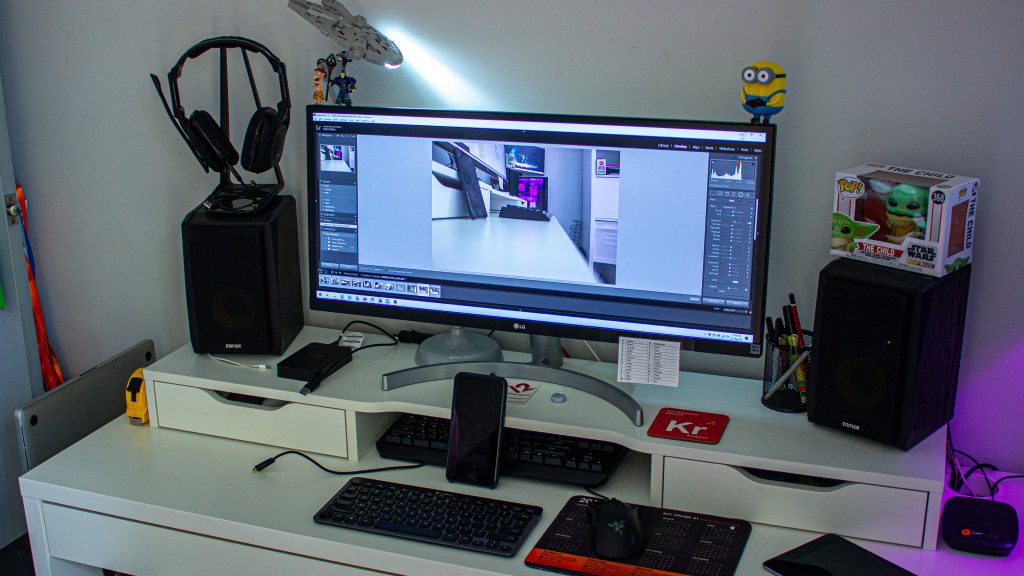 Can you tell me a bit about your setup? What does it include?
For many years I have been building and changing my setup. As far as networks go, mine is far from normal. I have implemented an enterprise network here in my home. I did this for several reasons. First, is that I enjoy tinkering with new products and building new systems so essentially our home network, or rather a segment of our home network, is my testing ground ?. But secondly, I have wanted to implement so many things around the home to make our lives easier.
Why does this setup work for you?
This setup works for me for now. The concept of being in IT and owning/running several IT businesses consistently encourages me to be looking for new ideas and ?what is next?? in our field. So, for now this setup works for me and my family. But as they say you never know what is around the corner. If I had to pick a few things for why this works for me right now, they would be: ease of use, clean and simple look, and it?s really powerful!
When choosing this setup, what were the things you considered?
The two biggest influences that encouraged me to build this setup is automation, and security and transparency. I am really big fan of automation and automating as much as I can. I have built many programs and systems to automate things around our home. They might seem trivial but it?s the small things that count, right? I?ve also wanted to build up our network so that I can do things like home mobile device management, auto deploying all our settings to any new devices we get and backing up EVERYTHING! To achieve this, I have had to implement several core networking components and several core servers. A prime example, all of our devices are provisioned by one of our servers and therefore fully tracked and traced. This means in the event of a device going missing we can monitor it.
Are there any upgrades you?d like to make?
There are ALWAYS upgrades! I am contemplating retiring my current Windows server for a Linux server and moving to a new platform again for testing to see how I like it. I also currently have 26TB of storage and this is near full, so I?ll be in need of more space soon.
What would you recommend for people putting together their own home setup?
You should consider other?s setups, why every setup is different and the purpose of your setup or network. Thinking about individual products that people can implement at home I would highly encourage two things: firstly, Unifi networking products – they are the gold class standard for networking equipment, easy to use, easy to setup, mobile app, the list goes on. And secondly, Pi-Hole. This is a Linux server that is a network wide ad blocker and therefore you won?t need an ad blocker in your browser (although that would still help grab the small number of ads that might slip through). It makes a huge difference! Have you ever watched YouTube without ads? Or, Facebook videos?
The ultra-mobile setup
And then there?s my setup. I needed a setup that allowed me to work anywhere and everywhere but also gave me a place that I can focus and be creative. As a marketing specialist, I like to be constantly on top of our social media and in touch with the wider team at all hours.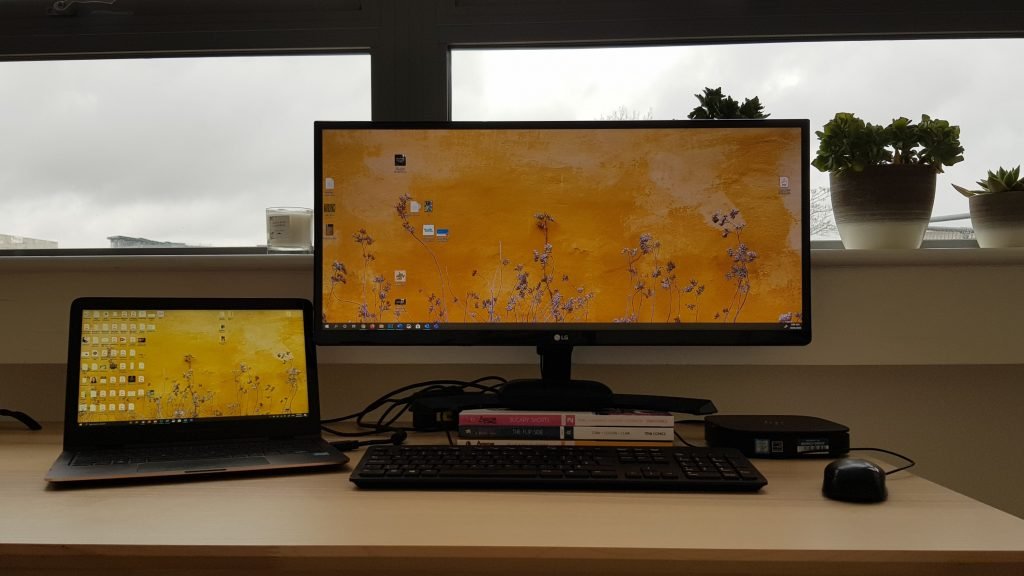 Can you tell me a bit about your setup? What does it include?
My setup comprises primarily of my laptop and mobile for while I?m on the move and then of a widescreen monitor, mouse, keyboard, a stack of books and some succulents at home. I used to keep a notepad and some positive post-it messages beside my monitor, but I retired these when I adopted a paperless workspace.
Why does this setup work for you?
I needed a setup that gave me full capacity when I want to sit down and focus for hours on end but also had the flexibility to go with me wherever I went. As I do quite a bit of travelling (before coronavirus put its ugly foot in it), I?d take my laptop with me and I could still work, while travelling and at my destination. But, while I?m at home, I wanted to have more visibility and with my widescreen monitor, I?ve essentially got 3 screens operating at once.
When choosing this setup, what were the things you considered?
As well as wanting flexibility and the ability to work easily from anywhere, I wanted to feel comfortable when I am at my desk. That?s why I?ve got my monitor at eye level (sitting on a stack of books) and some cute little plants. Wanting to be more environmentally conscious, I now have a paperless desk with all of my notes kept in the cloud where I can easily access them.
Are there any upgrades you?d like to make?
Of course! As much as I love my current laptop, the newer version of the HP Spectre has some rather nice edges and I really wouldn?t mind upgrading to 16GB of RAM. I?m also a bit crazy about succulents so I?m constantly adding new ones to my desk.
What would you recommend for people putting together their own home setup?
If you?re going to be spending hours at your desk, it?s worthwhile making it a pleasant place to be. I?ve also never been able to properly focus with a messy desk, so find the balance between having everything you need within arm's reach and keeping your desk neat and tidy.
Ultimately, what works best for you will be down to, well, you. You need to consider how long you will be sitting at your desk for each day and each week. Think about what tools you?ll need for working from home and even if a lovely big monitor would look great, a headset with crystal clear audio quality may be more important for your role. Finally, don?t forget to make it your own. Add in some plants or some little figurines from your favourite franchise. And, hey, if you know what you need but you?re not sure where to start, you can always reach out. Our team of technical specialists know their stuff.