As a growing business, Blitzit Plan Manager quickly realised that they needed a solution to keep their business documents all in one place, that is accessible to their team. After reaching out to multiple IT providers for an Office 365 solution, Sydney ICT has been able to not only implement a professional solution, but ensure it was suitable for their business needs. 

"We engaged with multiple providers… and Sydney ICT were the most responsive and communicated the most effectively. Zach also took the time to visit our office to get a better understanding of how we would be using the solution and what the most appropriate implementation process for our business would be."
-Ned Carr, Blizit Plan Manager
Blitzit Plan Manager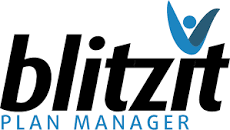 Blizit Plan Manager collaborates with people living with a disability and their service providers to deliver NDIS plan management services, such as paying invoices and tracking budgets. Their goal is clear up the complexities of the NDIS and reduce the overwhelming stress for NDIS participants and their families. 
The Problem 
When Blizit approached Sydney ICT, they were using a regular version of 365 and found that it left their company documents in a mess. With documents everywhere, their team were unable to efficiently collaborate or scale their business as their team grew and they took on new clients. 

"We were using a regular version of 365, which became difficult to manage over time and wasn't suitable for our growing business."
The Solution
The SydneyICT team hit the ground running with a visit to the client's offices to get a better understanding of how the Blizit team works and what they'll need Office 365 for, as well as how they can make the most of their new solution.  
From there we were able to design their initial SharePoint framework with the correct permission structure before migrating data across from their legacy 365 accounts.  
Finally, after onboarding the client into the Microsoft 365 ecosystem, we wanted to ensure that they were equipped to make the most of their new system. As part of this, we delivered hands on training so they could create new users as their teams grew, as well as create groups, maintain their Teams and SharePoint, and more.  
The Results
With a single source of truth, Blizit are now able to collaborate efficiently and onboard new members and easily give them the access they need to succeed from day one.  

"Excel is used most frequently, however the introduction of Teams and SharePoint to our processes will grow in usage and assist greatly with existing and new processes."
Office 365 offers a professional solution that is scalable and allows teams to effectively collaborate whether they're in the same office, working remotely or on the other side of the globe.  
If you'd like to start implementing a business solution that is tailored to your business needs and will grow as you do, get in touch with our team. 

"The biggest reason [we would recommend Sydney ICT] is the regular communication during the initial correspondence which is often the most confusing time because businesses aren't often aware of the benefits of a solution like Microsoft 365 and the benefits. Sydney ICT helped remove this barrier and identified how to use the system to suit our business the most appropriately." 
-Ned Carr, Blizit Plan Manager